About Power Spine & Sport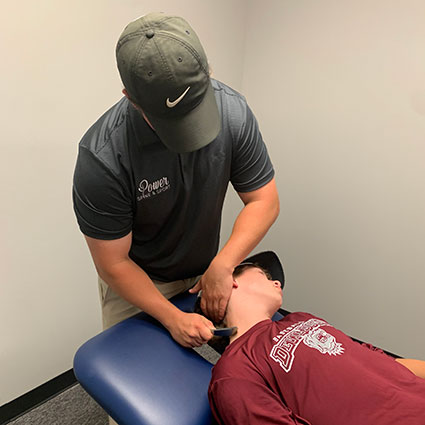 Dr. Hunter Andrews met Dr. Mary Power Chandler in 2011 when his mother worked in the same chiropractic office. He worked in the rehab department at their clinic during his undergraduate years. After attending a chiropractic seminar with them, Dr. Hunter decided to obtain a chiropractic degree.
Dr. Power always intended to find a way to collaborate with Dr. Hunter when he returned from school. Since Dr. Casie has the same vision and outlook on how to treat patients and serve the community, she seemed like a really nice fit for this new practice as well.
Like our other locations, our Power Spine & Sport logo reflects our focus on the spine, of course, but it also gives a nod to the sports and active lifestyle emphasis at our new clinic in Conway.
MEET THE DOCTORS

Our Mission
Our mission is to serve our community by going the extra mile for our patients, helping them achieve their goals and enhance their performance, whether they are weekend warriors or professional athletes. We strive to provide comprehensive care for families and their children, ensuring their health and wellbeing, while promoting longevity in function and movement, regardless of age or fitness level.
The ultimate goal at our clinic is for everyone to move and function better, so they can enjoy a fulfilling and active life with their loved ones. We envision ourselves as a trusted health care partner for our community, providing exceptional care and making a positive impact on the lives of our patients.
Coming Back to Our Roots
Dr. Hunter and Dr. Power worked together in Conway, so establishing a practice here is like coming full circle for them. With numerous colleges and large high schools in town and nearby, these services are a much-needed option to using gyms and physical therapy offices to avoid surgery or improve performance.
Dr. Power takes her commitment seriously to mentor new doctors and help them become successful. While many have exceptional skills, running a business doesn't always come naturally. With over 25 years of experience, she helps new graduates learn the business part of managing a clinic, building a support team, and other aspects of the process, so they can open their own clinics and grow and serve the people they're designed to. She starts with high school students and undergrads, and guides them through the decision-making process, mentoring them every step of the way.
Whether they work as an associate first or decide to open their own practice, these new doctors will be set up to succeed!
Book Your Visit
Give us a call today to learn more about what we have to offer.
CONTACT US

---
About Power Spine & Sport | (501) 459-5010